click "Tokyo has become a cruel and merciless city—a place where vicious creatures called "ghouls" exist alongside humans. The citizens of this once great metropolis live in constant fear of these bloodthirsty savages and their thirst for human flesh. However, the greatest threat these ghouls pose is their dangerous ability to masquerade as humans and blend in with society."
generic Deltasone cost The story of Tokyo ghoul is definitely far from a let down, it was interesting enough to keep me on the edge of my seat throughout the entire ride. I find this particular anime interesting because of the way the anime adapts real life problems via using ghouls.  With this, I was able to actually learn about the terrifying world of adults and corruption, which makes this a wonderful anime to learn a lot from.
go here The art is certainly not bad either. The various actions of the ghouls fighting with their kakuja and different powers was seriously amazing. The way the anime tries to depict the fight scenes as realistic as possible is what makes it wonderfully well done.
The soundtrack of Tokyo ghoul is Marvelous. It gave wonderful background sound to enhance how the character feels at certain scenes. If it's anger then the soundtrack follows, if its pity the soundtrack also follows. The soundtrack is also a good soundtrack to listen to without having the animation, especially the opening.
The characters are just so amazing that I have lots to say. I felt that I really connected with quite a few of them, especially Hide and Kaneki.

(Hide)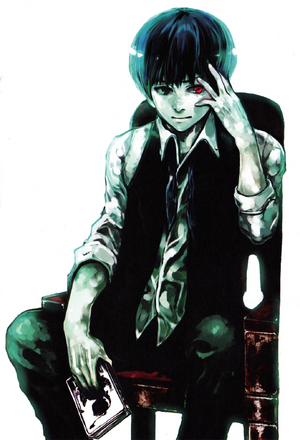 (Kaneki)
Overall this anime is such a good anime for a psychological and supernatural anime.  Tokyo Ghoul is certainly a great anime for a first timer and it's also a good anime for those of you who like gory stuff or lots of blood because this anime certainly contains a lot of it.